Citadel/Zbot virus (botnet) verstopt zich op de PC waardoor een gewone virus scanner het vaak niet kan vinden.
Een methode om te kijken of u het virus zelf heeft is door middel van de Zbotkiller op uw PC uit te voeren deze is op onze website te downloaden is. https://www.jotronics.nl/?page_id=145
Dit programma zoekt op een speciale manier naar het virus waardoor het wel gevonden kan worden.
Als u het programma heeft gedownload en opgeslagen op uw pc kunt u het uitvoeren.
Een dos venster komt dan naar voren toe zoals hieronder aangegeven.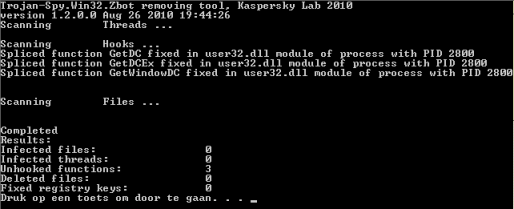 In het plaatje hierboven ziet u dat er enkele Hooks gevonden worden.
Dit betekend dat u geĂŻnfecteerd ben met het virus.
Mochten er zelfs Infected files en threads op staan is het van groot belang niets verder op de PC te doen.
Bij infectie is het belangrijk om uw bank zaken te controleren op onrechtmatige afschrijvingen of overboekingen en uw login gegevens aanpassen van online zaken (webmail of cloud computing). Het is aan te raden dit ook regelmatig te doen ook al bent u niet geĂŻnfecteerd.
Teven raden wij u aan om de PC zo snel mogelijk langs te brengen zodat wij het virus totaal kunnen verwijderen en uw pc kunnen upgraden waardoor het minder snel mogelijk is opnieuw een infectie op te lopen.
Mocht u niet geinfecteerd zijn dan zal u onderstaande venster zien.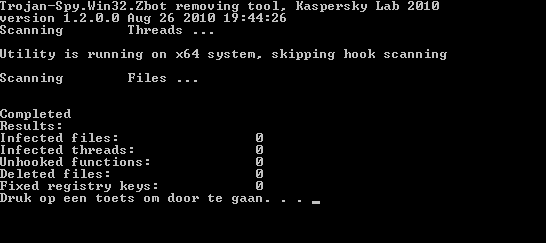 Sommige programma's, zoals o.a. ISL Light (Jotronics Remote Support) , Teamviewer , VNC en Logmein kunnen ook hooks weergeven.
Uw PC hoeft dan niet geinfecteerd te zijn maar door legale software worden dan ook hooks weergegeven.